Come to Extremadura

Planes en familia
Gastronomic experiences, caves and abandoned mines, nature activities, birdwatching and stargazing, unique offerings and incredible museums: there are any number of wonderful activities for children in Extremadura.
In the footsteps of the iron horse
The four Greenways of Extremadura are an excellent option for exploring by foot, on two wheels or on horseback to enjoy this incredible landscape. These trails were once railway lines that have now been conditioned and signposted so that everyone can enjoy the route. They are:
Vegas del Guadiana Greenway From Villanueva de la Serena to Logrosán through dehesa, wetlands and farmland. Due to its length (57km) it is recommended to take two days to complete the trial.
Monfragüe Greenway The Monfragüe Greenway runs through Malpartida de Plasencia, in the Monfragüe National Park and Biosphere Reserve. It is one of the best conserved areas of Mediterranean forest on the Iberian Peninsula, ideal for appreciating nature and birdwatching.
La Plata Greenway The Ruta de Ambroz Valley The oak and chestnut forests are an incredible site, especially in autumn.
La Jayona Greenway The La Jayona Greenway traverses the different areas of the Campiña Sur, the southern countryside of Badajoz and takes its name from the old mine of La Jayona. It will take you through olive groves, olive trees and farmland.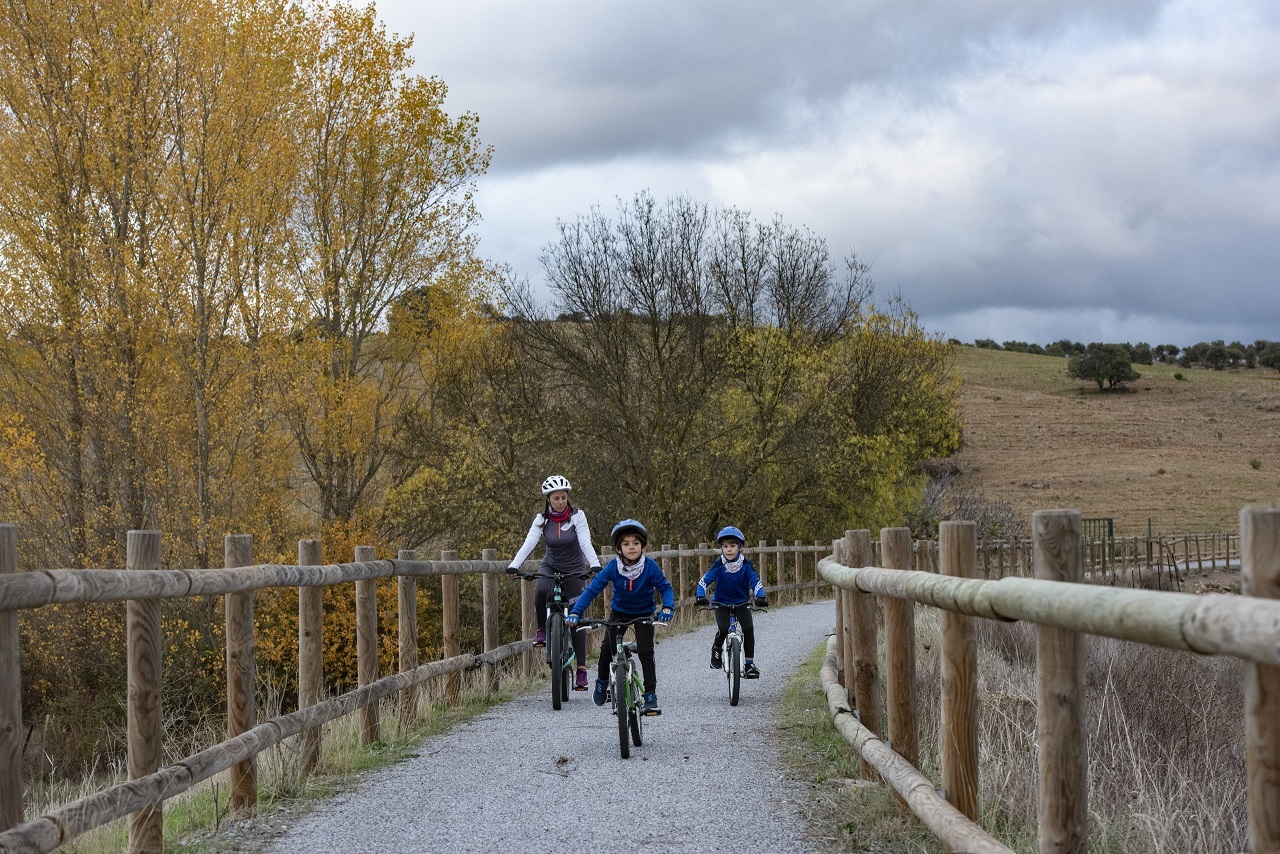 Yes, we've got a beach!
Who said there's no beach around here? Extremadura offers a thousand and one refreshing options for the family: 1,500 kilometres of inland shoreline. Over 30 natural pools, gorges, fluvial beaches and reservoir beaches in locations of great beauty. Two blue flags at Orellana and Cheles beaches. Leisure cruises on the rivers Tagus (Internacional Tagus National Park), Alagón and Guadiana (Alqueva). Nautical schools offering courses in sailing, windsurfing and other sports. Canyoning in the Jerte Valley and La Vera
Sierra de Gata, Las Hurdes, Jerte Valley, Plasencia, Ambroz Valley, La Vera and the Villuercas Ibores Jara Global Geopark, in Cáceres, are home to most of the bathing areas in Extremadura. In Badajoz we can take a dip at La Siberia, La Serena, Vegas Altas del Guadiana, Mérida (Roman reservoir of Proserpina), Alange and Cheles (Alqueva), among others.
An abandoned village
The residents of Granadilla were forced to leave their village in the mid-20th century due to the construction of the Gabriel y Galán dam. This medieval village has been abandoned ever since, although rehabilitation works over recent decades have seen some of its beauty recovered, preventing the deterioration of some of its buildings. The Almohad wall, the castle and the Plaza Mayor, with several houses that maintain the original structure, are highlights.
It is quite an experience to walk its streets and imagine what life was like in the village back then. Its elevated location offers marvellous views. Check the hours for visiting Granadilla because admission may be closed at certain times.
Extremadura on a plate
Have you ever made cheese with your own hands? Do you know how olive oil and wine are produced? Do you know the importance of the dehesa, the habitat of the ibérico pig?
In Extremadura there are four different gastronomy trails with programmes activities for families with children and that explain the origin and the production process of four of the region's best products: The Cheese Trail, the Olive Oil Trail, the Ribera del Guadiana Wine Trail and the "Dehesa de Extremadura" Ibérico Ham Trail.
Guided tours to livestock holdings, cheese dairies, oil presses, wineries and ham cellars. Safaris through the dehesa. Walks through vineyards and olive groves. "Shepherd for a day" activities, such as milking and cheese making. Tastings. Environmental education activities and games.
There's nothing better than a gastronomic tour of Extremadura learning about the local products.
Adventures in the museum
Extremadura is home to some excellent museums that explain the history of Humanity and house valuable collections of art and many curiosities. These three suggestions will pique the interest of our little intrepid explorers:
The Mérida National Museum of Roman Art (MNAR) is one of the most visited museums in the whole country, with the archaeological remains of Emerita Augusta, offering a glimpse of what life was like in Spain under Roman Empire. You'll find sculptures, mosaics, coins and utensils from more than 2,000 years old, including toys used by children. The MNAR organises numerous children's initiatives, especially during the holiday period.
In Malpartida de Cáceres, close to the city of Cáceres, is one of the most original museums in the whole country: the Vostell Malpartida, created by German artist Wolf Vostell. A lover of Extremadura, he came up with the idea of a museum perfectly integrated into the environment of Los Barruecos, where children love the artworks made from cars, motorcycles and televisions. Did you know that storks make their nests in a 16-metre-high sculpture made up of the fuselage of a war plane, two cars, computer monitors and three pianos.
In Puebla de Alcocer, in La Siberia, there is a curious museum dedicated to the "Extremeñan giant", a seven-and-a-half-foot-tall local man who lived here in the 19th century. His name was Agustín Luengo Capilla and he spent part of his life working in the circus. You can find a replica of his enormous cane, a pair of boots gifted to him by King Alfonso XII and other objects.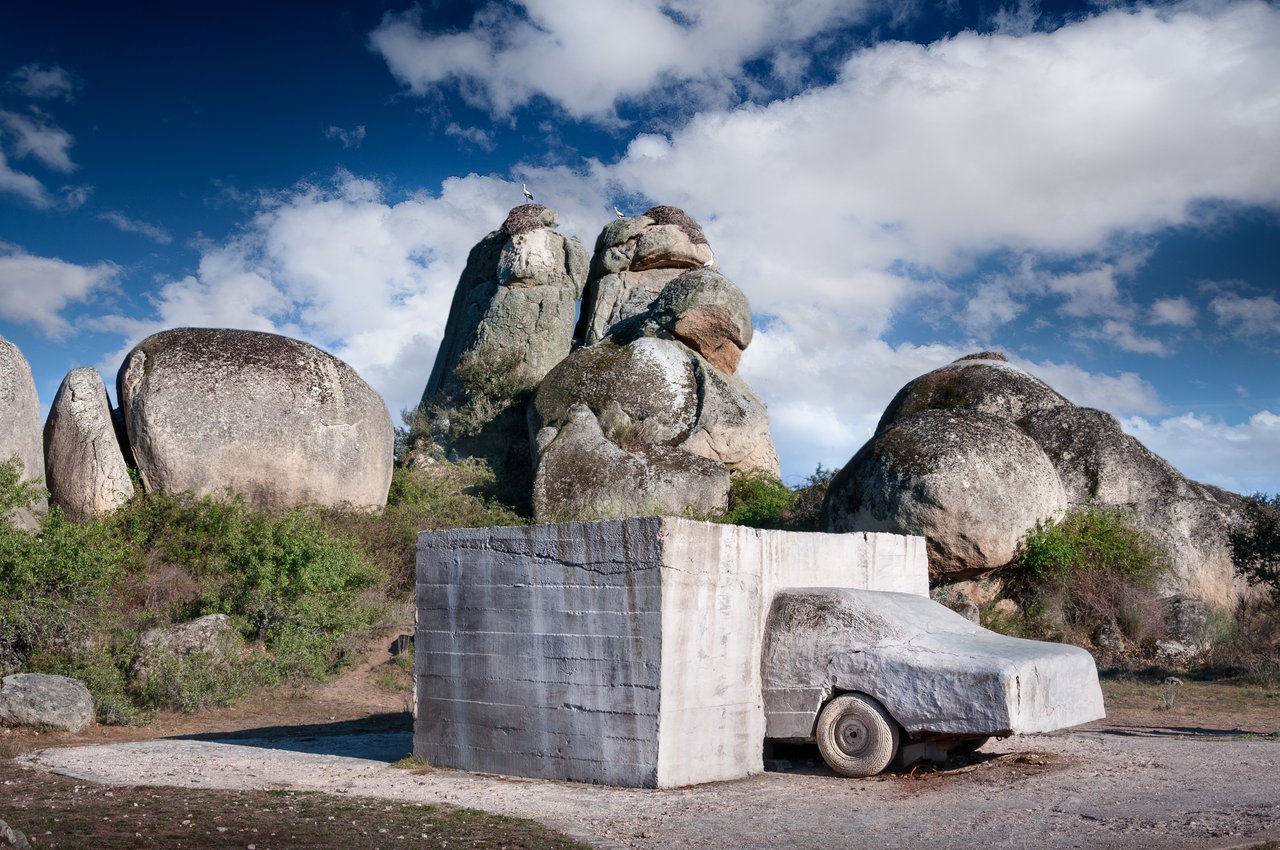 Journey to the centre of the Earth
Following in the footsteps of Jules Verne, we have three recommendations for underground adventures:
Cuevas de Fuentes de León Located in the municipality of the same name, in the south of Extremadura, these caves have been declared a Natural Monument for the landscape and ecological value. The visit includes several karts caves, including the Water cave, the biggest and best known, with an underground lake of some 25 square metres and cave engravings. This cave has been declared Site of Community Interest (SIC) for the protection of an important colony of bats.
La Jayona Mine Staying in the south of Badajoz, there's another hidden gem that has also been declared a Natural Monument. This old iron mine, abandoned in 1921, is located at Fuente del Arco and is of great geological interest while the surrounding area is packed with flora and fauna. It's worth exploring its galleries and wells, discovering the lights and sounds that vary according to the time of year.
Costanaza Mine At Logrosán, phosphate was extracted at the Costanaza Mine for the manufacture of fertilisers. It was active from 1863 to 1946. The visit begins at the Phosphate Interpretation Centre, continues in the minefield which is home to a dark room where fluorescent minerals are displayed, continues in the mine itself, where you can explore the old galleries before ending in the Geological and Mining Museum.
Paradise for the birds
Extremadura is one of the best places in Spain for birdwatching, from large predators to smaller, colourful birds like bee-eaters, orioles and goldfinches. The three Biosphere reserves (Monfragüe, International Tagus and La Siberia), Cornalvo National Park, just a few kilometres from Mérida and other protected spaces receive birdwatchers from many countries, equipped with cameras, binoculars and telescopes.
On your family getaway, let the experts of the Club Birding in Extremadura guide you, with dozens of accommodation establishments, specialised guides, activity companies and tourist offices. These professionals will take you the best sports for birdwatching and give you advice for some unforgettable photos and take you on guided tours on foot, by bicycle or by 4x4.
And this is where you can observe more than 330 species of birds all year round, a number difficult to see anywhere else.
What's more, in several Extremeñan cities like Cáceres, Plasencia, Trujillo y Zafra you have some 60 tourist experiences related to the lesser kestrel. Painting and photography workshops, walking routes and cycling tours are just some of the activities of the Urban Birding project, created to promote and conserve this threatened bird.   
When visiting the region, don't forget your binoculars and a field book to jot down and draw all the birds you come across, in the countryside or the city.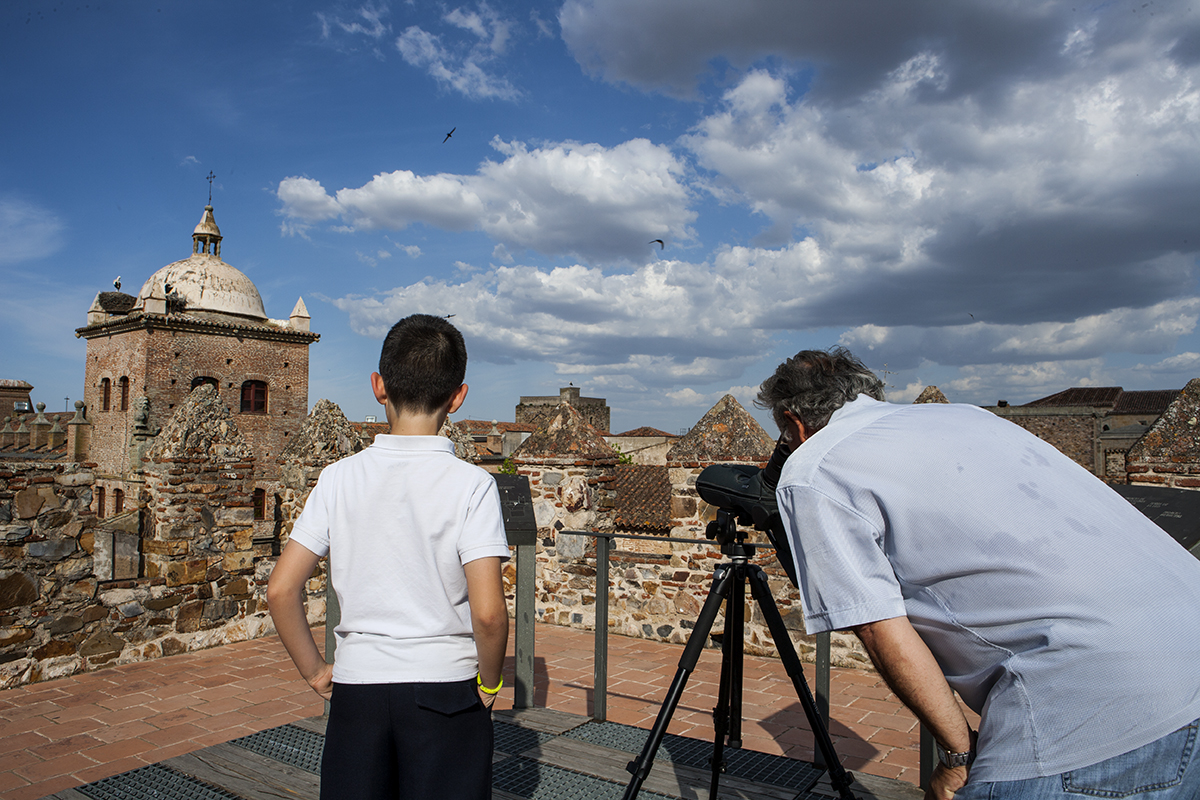 Under a starry sky
Can you pick out the Ursa Major? And Venus? The sky of Extremadura is perfect for contemplating the planets and stars. The low light pollution and benign climate, which gives us a high number of clear days through the year; the many spectacular viewpoints; and the commitment of institutions and companies to promote these activities make it a great region for experts and amateur home astronauts and astronomers!
Across the territory of Extremadura it's easy to find marvellous places for observing the night sky, like Las Hurdes, Tagus International, Valle del Jerte, Valle del Ambroz, Sierra de Gata, La Siberia, Sierra Suroeste, the Campiña Sur and Tentudía, among others. Monfragüe and Alqueva are worthy of special mention. They hold the Starlight destination certificate which certifies their ideal conditions for astrotourism.
In Trujillo, children love the planetarium installed in the 16th century convent of San Francisco. It is the biggest mobile planetarium in Spain.