Come to Extremadura

El Camino de la Plata
An historial route to Santiago
This historical pilgrimage route crosses Andalusia, Extremadura, Castile-León and Galicia to reach the destination of Santiago de Compostela. Its Extremeñan section runs across spectacular landscapes and a valuable historical and cultural heritage.
In order to enjoy Xacobeo 2021 (a Compostela Holy year when the feast of St. James's Day falls on a Sunday) the autonomous regions of Andalusia, Extremadura, Castile-León and Galicia have promoted Camino de Santiago route along the Vía de la Plata, or silver way, the Roman road which serves as the communications backbone for Western Spain and which, twenty centuries later, is used by pilgrims walking or cycling their way to Santiago.
The result of the collaboration between those four autonomous regions is the Camino de la Plata initiative. Its website (https://www.elcaminodelaplata.com/) contains information about the suggested stages and the municipalities included in each of them; it lets you discover its hidden treasures and to read true statements of its people, proud veterans of the Camino will help you to get to know this incredible route a little better.
The Extremeñan section of the route cover over 300 kilometres, dotted by Roman remains that are well worth a visit. On the road to Santiago, remains of the original route of the Roman road, Roman bridges, public baths in the Baños de Montemayor spa and cities founded in Roman times, as Cáparra and its famous tetrapylon, the only of its kind in Spain, can be visited.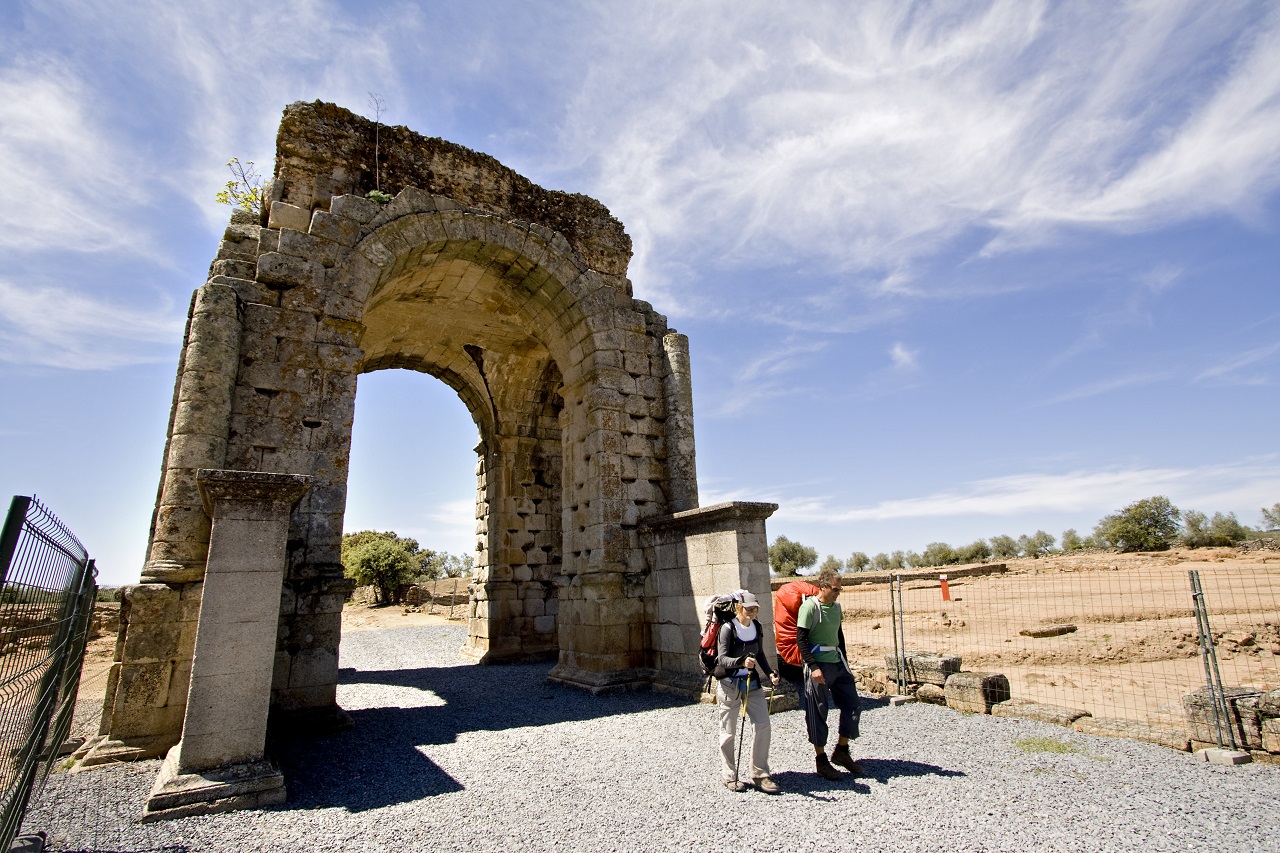 Mérida, a World Heritage Site for its Roman archaeological heritage, is especially noteworthy. Its theatre, its amphitheatre, its bridge over the Guadiana river and the Temple of Diana are among its most representative monuments.
However, the interest of the Extremeñan section of the Ruta de la Plata goes beyond the Roman heritage and includes Christian, Arab and Jewish influences. The Cáceres Old Town is a must, as its magnificent towers, churches and mediaeval streets make it a Word Heritage Site. In fact, a few years ago the Council of Europe declared it the "third monumental ensemble of the continent" after Tallinn (Estonia) and Venice (Italy).
The old towns of Zafra and Plasencia are also important.
Stage by stage, pilgrims cross dreamy landscapes of dehesas, prairie and sierra, and charming towns and villages with a rich and varied gastronomy. Pilgrims will have the chance to verify that Extremeñan delicacies, especially its delicious ham, give them sufficient strength to walk to the Plaza del Obradoiro in Santiago.
Happy trails!