Come to Extremadura

Denominaciones de origen
Products with marks of identity
The twelve Designations of Origin and four Protected Geographic Indications of Extremadura demonstrate the quality and variety of our gastronomy. Exceptional raw ingredients to conquer all palates.
PROTECTED DESIGNATIONS OF ORIGIN (PDO)
Gata-Hurdes Extra Virgin Olive Oil
Production area: Sierra de Gata, Las Hurdes, Valle del Alagón, Valle del Ambroz, Valle del Jerte, La Vera and Trasierra-Tierras de Granadilla (Cáceres).
Characteristics: Produced exclusively using the Manaznilla Cacereña variety of olive, which is native to the province of Cáceres. It is a dense olive with a high percentage of oleic acid, generally above 75% It is yellow in colour when the fruit is mature.
Monterrubio Extra Virgin Olive Oil
Production area: La Serena, La Siberia and Campiña Sur (Badajoz).
Characteristics Greenish-yellow in colour with great stability and a fruity, aromatic flavour with hints of almond. Slightly bitter and spicy. To obtain this oil, the Cornezuelo and Jabata (Picual) varieties of olive are used up to 90%. The rest of the blend is made up of the Mollar, Corniche, Pico-Limón, Morillas and Cornicabra varieties.
http://www.aceitemonterrubiodop.com/
Villuercas Ibores Jara Olive Oil
Jerte Cherry
Production area: Jerte Valley, Ambroz Valley and La Vera (Cáceres).
Characteristics There are Protected Designations of Origin for five varieties of cherries. Four of them belong to the Jerte Picota group: the Pico Limón Negro, one of the oldest and that is not produced in any other part of the world; the Ambrunés, the most commonly grown within the protected designation of origin region and sought after for its sweetness; the Pico Negro, also one of the oldest; and the Pico Colorado, which accounts for almost 10% of the production of Picota cherries and a late fruit.
There is a fifth variety that does not belong to the Picota group and reaches the consumer with a stalk attached. This is the Navalinda cherry.
The Jerte Picota cherry is an exclusive product distinguished for its flavour and sweetness. It stands out for its meaty and crunchier texture, smaller size, sweeter taste and their colour. The natural cultivation and traditional collection methods multiply its properties and means these cherries reach the market when they're just ripe for consumption.

Dehesa de Extremadura Ibérico Ham
Production area: All of Extremadura.
Classification by breed: The hams and shoulders protected by the PDOG are produced from 100% Ibérico pigs or those crossed with at least 75% ibérico blood.
Classification of foods:
Bellota Ham. The animal is sacrificed immediately after the montanera period of freely roaming the dehesa, feeding on a diet of acorns and herbs. Black tag and black label: acorn-fed ham and shoulder ham from 100% ibérico breed. Red tag and red label: acorn-fed ham and shoulder ham from 75% ibérico breed.
"Cebo de Campo" Ham 75% ibérico breed or 100% ibérico pigs who spend the fattening phase extensively on natural pasture land and feed on natural grasses and feed mainly comprised of cereals and legumes. These "Cebo de Campo" hams and shoulders can be recognised by their green-coloured tag and label.
Characteristics: When carved, this ham has a characteristic colour which varies from pink to deep red-purple, with fat that infiltrates the muscle mass. The meat has a delicate flavour, not excessively salty and less fibrous in texture. The aroma is pleasant and characteristic. The fat is a brilliant whitish-yellow in colour, aromatic and delightful in flavour.
http://www.dehesa-extremadura.com/
The "Dehesa de Extremadura" Ibérico Ham Trail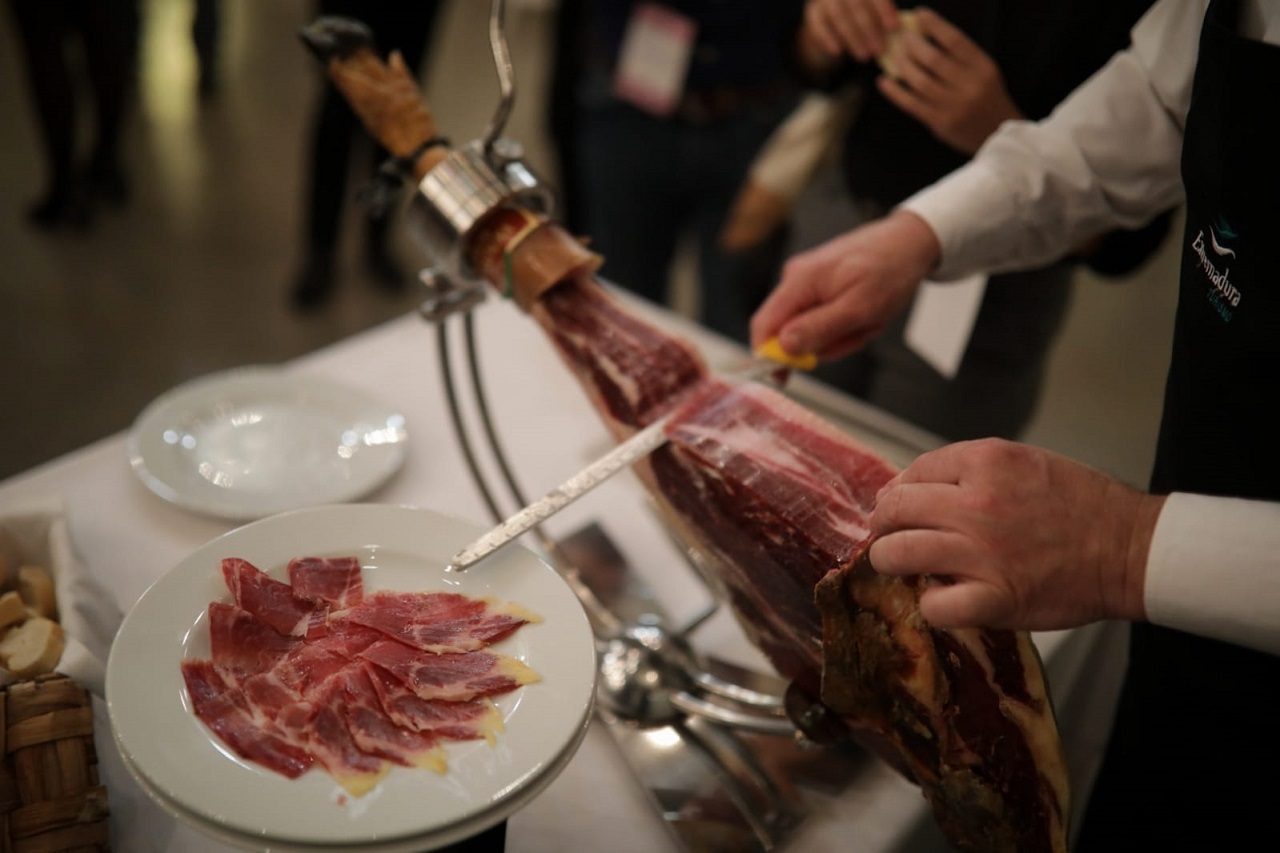 Villuercas-Ibores Honey
Production area: Las Villuercas and Los Ibores (Cáceres).
Characteristics: Exceptional aroma and flavour. These honeys are deep red almost black in colour with greenish hues and are very aromatic with a slightly bitter taste. Depending on the different vegetation landscapes, the following types of honey can be distinguished: monofloral gorse honey (Retama sphaerocarpa); monofloral chestnut honey (Castanea sativa); multi-floral honey; and honeydew honey.
http://mielvilluercasibores.eu/
La Vera Paprika
Production area: La Vera, Campo Arañuelo and the Ambroz and Alagón Valleys (Cáceres).
Characteristics: A product with intense and penetrating smoky flavours and aromas thanks the drying process using holm oak smoke. It is intense red in colour, relatively bright and has a high colouring effect. Its flavour, aroma and colour are highly stable over time, due to the slow drying process used. There are three type of paprika: sweet, sweet and sour and spicy.
http://www.pimentonvera-origen.com/
Acehúche Cheese
Production area: Acehúche and other municipalities in the counties of Tajo-Salor-Almonte and the Alagón Valley. In total it covers an area of approximately 396,000 hectares of the west-central area of the province of Cáceres.
Characteristics: Prepared exclusively based on raw goat's milk from the Retinta, Verata, Murciana-Granadina, Florida and Malagueña breeds, as well as some crosses, and from animal curd. The result is a very fatty cheese, with compact texture of a semi-hard white paste. On the palate it's slightly spicy and reaches maturity in two months.
It is served in small pieces of less than a kilo, after being prepared and pressed in chestnut wood or tin moulds.
Ibores Cheese
Production area: Los Ibores, Las Villuercas, La Jara and Trujillo (Cáceres).
Characteristics: This cheese can only be obtained from raw goat's cheese from the Verata, Serrana and Retinta breeds of goat and crosses thereof. The paste is ivory white in colour, semi-hard with a greasy, humid texture with a small number of unequally distributed eyes. It has a mild to moderately intense aroma. It has a characteristically strong flavour, slightly acidic and moderately spicy, somewhat salty with a mildly caprine aftertaste. Very pleasant on the palate.
La Serena Cheese
Production area: La Serena (Badajoz).
Characteristics: Soft to semi-hard paste cheese made from merino sheep's milk and vegetable curd (Cynara Cardunculus cardoon). Oily or extra-oily with a minimum curing time of 20 days. Its rind is semi-hard, waxen yellow to ochre in colour, with smooth exterior and smooth outer perimeter or with the in the imprint of the mould. Its paste is semi-hard, ivory white to waxen yellow in colour and may present small eyes distributed unequally across it and has a very characteristic aroma and flavour.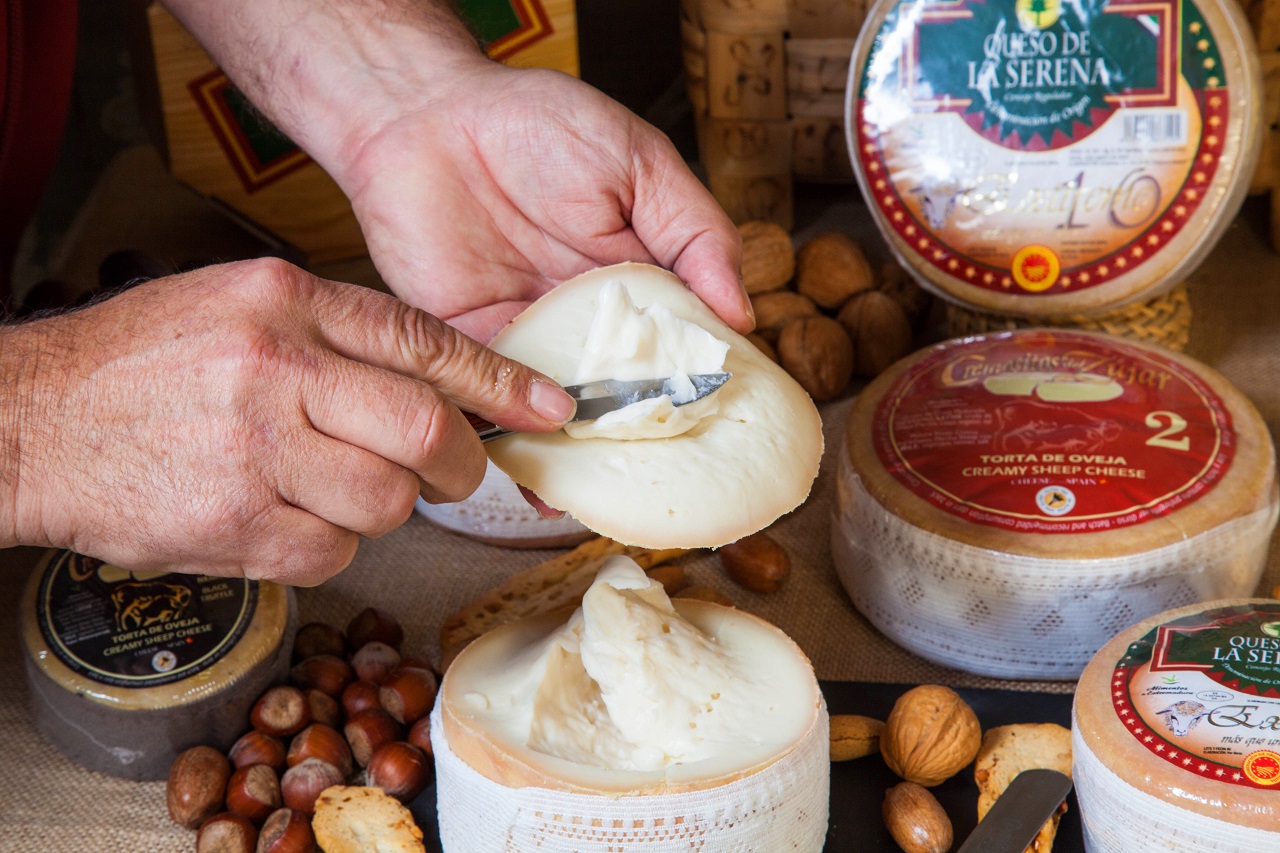 Torta del Casar
Production area: Cáceres, Llanos de Cáceres, Sierra de Fuentes and Montánchez.
Characteristics: Produced using the milk of Tronco Merino and Entrefino sheep. The rind is semi-hard, somewhere between yellow and ochre in colour, and may present small cracks. The paste is soft and spreadable, white to yellow in colour and can present small eyes throughout. The texture is the differentiating quality of Torta del Casar. It is exceedingly creamy, clean but soft and unctuous when cut, making the interior sometimes spill through the cracks of the rind, resulting in a cheese with just the right fat that melts on the palate. Intense in flavour, it has a well-developed and slightly bitter flavour from the use of vegetable curd (made from the Cynara Cardunculus cardo).
Ribera del Guadiana Wine
There are six sub-zones of production: Cañamero, Montánchez (Cáceres), Ribera Alta, Ribera Baja, Matanegra and Tierra de Barros (Badajoz). The latter is the most extensive of the six sub-zones, representing 80% of all vines and stretches from Mérida to the south of Extremadura.
Characteristics: Autochthonous and other varieties of renowned national and international prestige are used, such as Tempranillo, Garnacha, Cabernet Sauvignon and Syrah for reds and Viura (Macabeo), Verdejo and Chardonnay for whites.
Almendralejo also produces cava, as it is one of the 159 Spanish municipalities, and the furthest south of them all, that forms part of the Cava Regulatory Council.
The Ribera del Guadiana Wine Trail
PROTECTED GEOGRAPHIC INDICATIONS (PGI)
Extremadura Lamb (Corderex)
Production area: All of Extremadura.
Lambs produced under this IGP are born in the dehesa of Extremadura and are reared with mother's milk for the first 45 days. Their feeding can then be complemented under the control of the Regulatory Council. The Tronco Merino breed of lamb is mostly used. Mothers are either Merino breed or are crosses of Merino Precoz, Ile de France and Merino Fleischschaf, provided at least 50% of her progenitors. The fathers are Tronco Merino, Merino Precoz, Ile de France or Merino Fleischschaf, pure or simple hybrid.
Characteristics: The meat has a pleasant flavour on the palate, with a moderate level of infiltration of inter-muscular fat. The meat is very tender and quite lean. The aroma, bouquet and succulence are excellent. The age of sacrificed for lambs cannot exceed 100 days.
Ternera de Extremadura Beef
Production area: 22 municipalities of the region, from north to south, including Badajoz, Cáceres, Coria, Mérida, Navalmoral de la Mata, Olivenza, Plasencia, Trujillo and Valencia de Alcántara.
Characteristics: Native breeds 'Retinta', 'Avileña Negra Ibérica', 'Morucha', 'Blanca Cacereña', 'Berrendas' and crosses among them or with the breeds 'Charolais' and 'Limousin', which are permitted by the IGP.
The following different categories are distinguished:
Ternera [from young cattle]: Meat from animals intended for slaughter at an age of between 7 and 12 months less one day. Their diet is fundamentally based on maternal milk, with certain supplements authorised. It is bright red in colour, with white fat, a firm consistency, slightly moist and with a fine texture
Añojo [from yearling cattle]: Meat from animals intended for slaughter at an age of between 12 and 16 months. It is between light red and purple-red in colour, with white fat, a consistency which is firm to the touch, slightly moist and with a fine texture
Novillo [from bulls/heifers]: Meat from animals intended for slaughter at an age of between 16 and 36 months. It is cherry red in colour, with creamy-coloured fat, a consistency which is firm to the touch and slightly moist, a fine texture, and moderate amounts of intramuscular fat.
http://www.terneradeextremadura.org/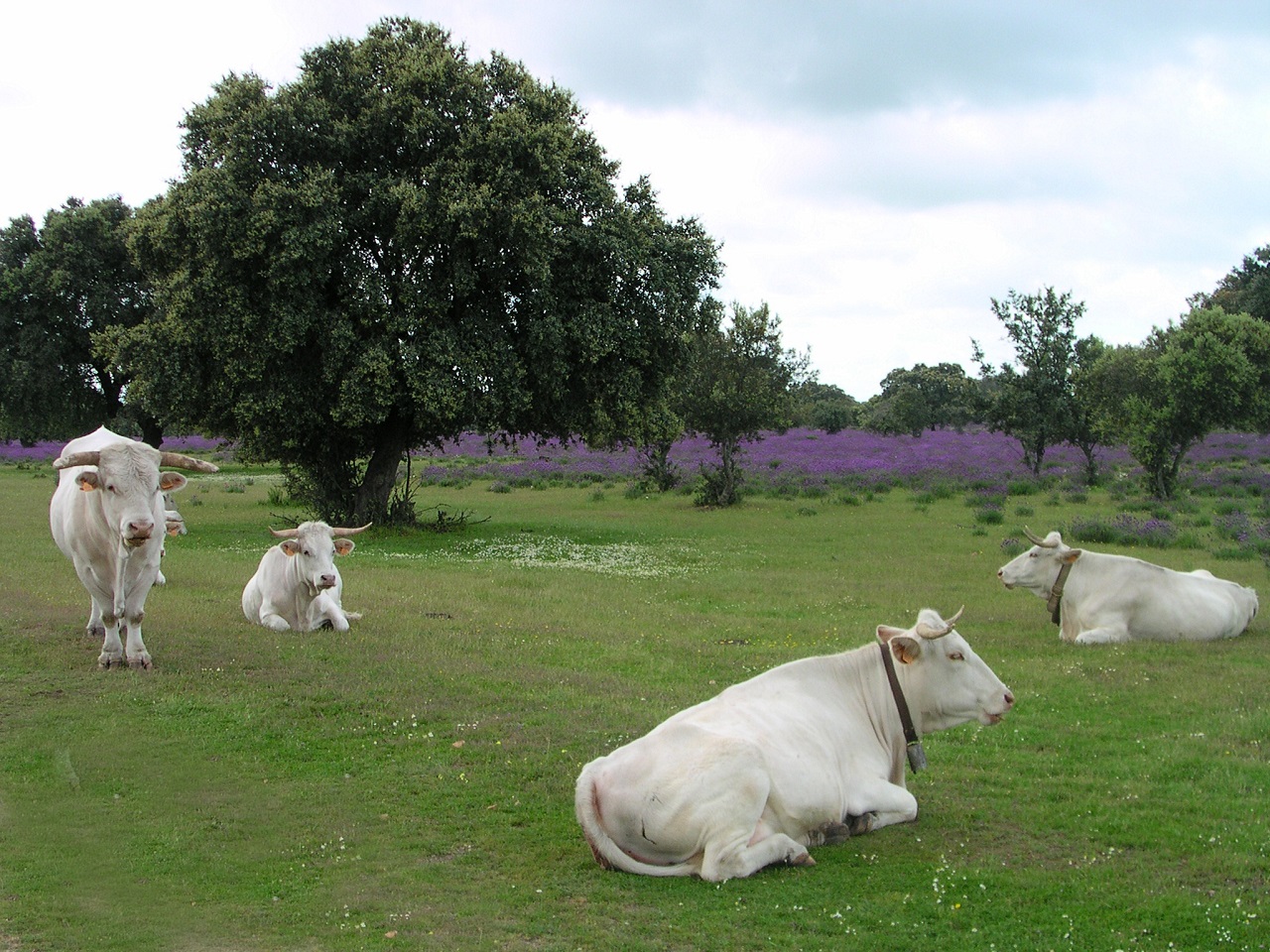 Vaca de Extremadura Beef
Production area: All of Extremadura.
Characteristics: Beef from female cattle that have spent 48 months and entered fertile age. It is obtained principally from autochthonous breeds of beef cattle in Extremadura: 'Retinta', 'Avileña Negra Ibérica', 'Morucha', 'Blanca Cacereña', 'Berrendas', either pure breed or crosses between the aforementioned breed and with the breeds included in the Official Catalogue of Livestock Breeds in Spain.
Vaca de Extremadura meat stands out for its cherry red to purple-red colour, its fine and marbled texture, creamy-white to yellowish colour fat, a texture firm and consistent o the touch, a smell of animal fat, juicy in the mouth with a deep and persistent meaty flavour so typical of aged beef. The colouration of the autochthonous breed of beef bred extensively is more intense than breeds bred in corrals.
Pliego de condiciones de la IGP Vaca de Extremadura
Tierra de Extremadura Wine
Production area: All of Extremadura.
An order of the Government of Extremadura of 1999 regulates the use of the "Vino de la Tierra de Extremadura" description for wines produced with grapes produced in this geographic area and fulfilling determined requirements. This regulation offers producers all over the autonomous regions to apply the certificate to their wines, helping consumers to identify them.
Permitted grape varieties:
Whites: Alarije, Borba, Cayetana Blanca, Chardonnay, Cherva or Montúa, Pardina, Eva or Beba De Los Santos, Malvar, Viura or Macabeo, Parellada, Pedro Ximénez and Verdejo.
Reds: Bobal, Cabernet Sauvignon, Garnacha Tinta, Tempranillo, Graciano, Mazuela, Merlot, Monastrell and Syrah.
Types of wines: whites, rosés and reds.