Come to Extremadura

Astrotourism
The region is a real landscape of stars. Apart from its natural attractions, we have excellent conditions to get the best sky-viewing experience and a specialised sector. Monfragüe and Alqueva have been granted a Starlight Tourist Destination certificate.
The low level of light pollution in a great part of Extremadura, the good climate, with many cloudless days all year round, the existence of spectacular locations and the increasing involvement of public institutions, lodgings and businesses promoting astrotourism make the region a paradise for stargazers.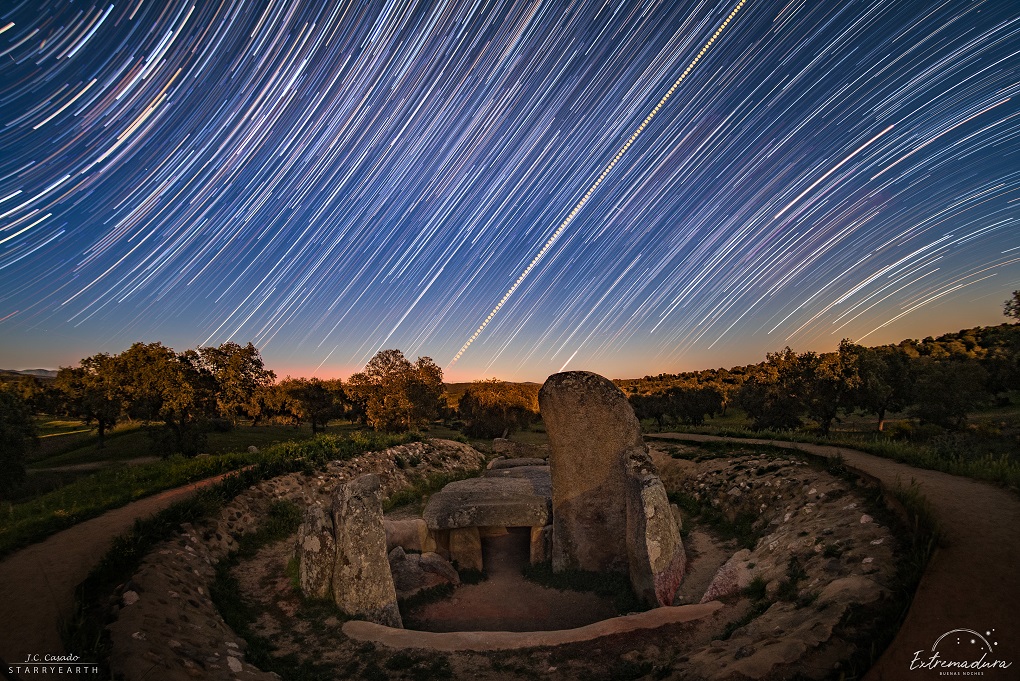 *Dolmen of Lácara. Picture selected by NASA on March 21, 2019 (https://apod.nasa.gov/apod/ap190321.html).
Throughout the whole Autonomous Community it is easy to find a place offering optimum stargazing conditions. In this sense, the guide 'Extremadura, paisaje de estrellas' (Extremadura, landscape of stars), published by the Directorate General of Tourism, proposes these ten areas for observing the night sky: Sierra de Gata; Tajo International Biosphere Reserve and Sierra de San Pedro; Tierras de Granadilla; Castro Capote (Higuera la Real); Monfragüe Biosphere Reserve; castles and dehesas of Sierra Suroeste in Badajoz; Villuercas Ibores Jara Geopark; Alqueva Natural Theme Park; Valle del Jerte; and Valle del Ambroz.
Guide 'Extremadura, landscape of stars'
This guide provides information on accesses, GPS coordinates, what can be seen in the sky and sightseeing recommendations around the area.
Extremadura has two territories that have been granted the Starlight Destination certificate, awarded by the foundation of the same name: the Monfragüe Biosphere Reserve and the Gran Lago de Alqueva area.
These sites may be visited and offer excellent stargazing conditions as they are well-protected from light pollution, being especially suitable for developing tourist activities based on this natural resource.
Monfragüe
Monfragüe was, in early 2017, the first place in Extremadura to receive this recognition. Places like El Salto del Gitano (also known as Peña Falcón) or Monfragüe castle are magnificent viewpoints for observing, during the day, griffon vultures, black vultures and Egyptian vultures, and, at night, the Milky Way from the Sagittarius constellation, on the left (south-southwest), to the Perseus constellation, on the right (northeast).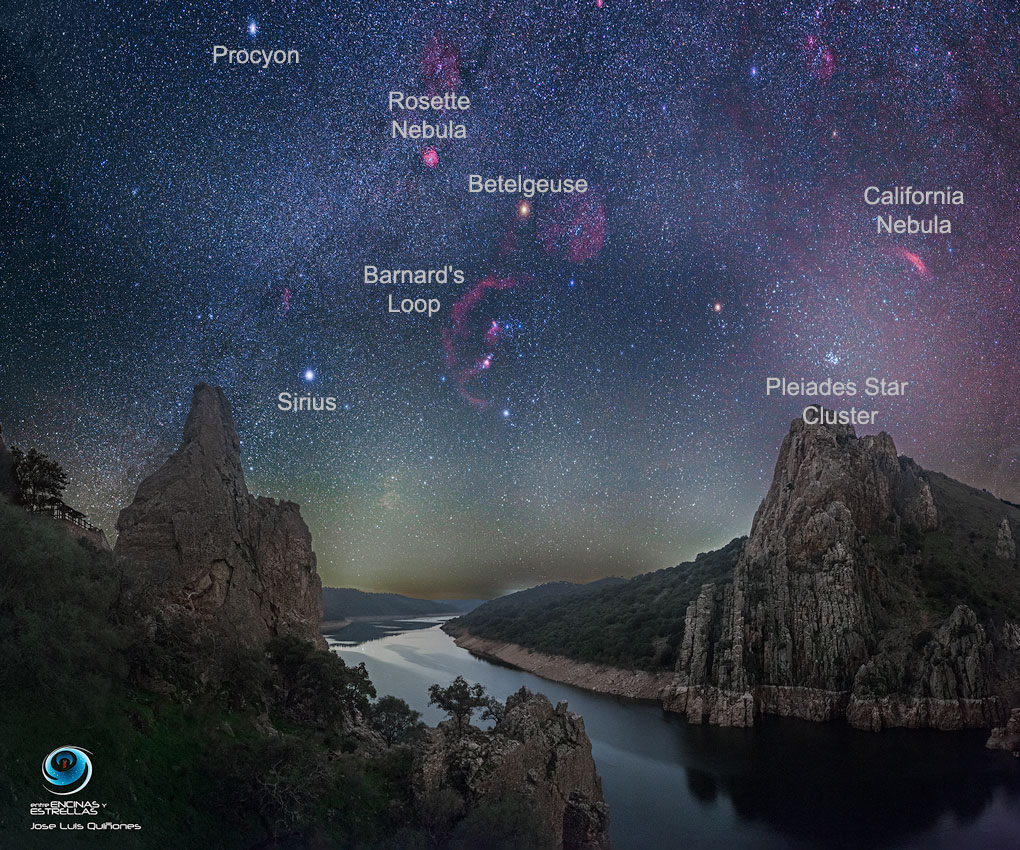 *Monfragüe National Park. Picture selected by NASA on March 14, 2017 (https://apod.nasa.gov/apod/ap170314.html).
The municipality of Torrejón el Rubio, also in the Monfragüe Biosphere Reserve, has an astronomical observatory that has recently been renovated featuring a 4-metre dome, with a capacity for 10 people, and a 25-cm Meade telescope. It is advisable to contact the Tourist Office in the town for opening and visiting times (+34 927 455 292, +34 637 30 11 89 or turismotorrejonelrubio@gmail.com and astromonfrague@gmail.com).
Another site in Monfragüe, very near the village of Villarreal de San Carlos (Serradilla), there is an astronomical viewpoint at a place called Arroyo Malvecino with information panels about the Milky Way, the moon phases and circumpolar constellations.
Without leaving the Biosphere Reserve, in Casas de Miravete, there is an astronomical observatory at Era de los Santos. It has several information panels about the solar system, the moon, celestial objects and the mythology of the constellations, in addition to a nocturnal or nocturlabe (an instrument used to determine the local time based on the position of a given star in the night sky) and a constellarium, which allows you to locate more than 50 constellations visible throughout the year in the northern hemisphere. Although this observatory is permanently open (it is located on a livestock farm, so please close the gates), it is possible to take a guided tour by booking at GeoCentro Monfragüe (+34 927 54 25 30 or through geocentromonfrague@gmail.com). 
Alqueva
In southwest Extremadura, five cross-border towns in the Gran Lago del Alqueva area (Olivenza, Cheles, Alconchel, Táliga and Villanueva del Fresno) received the region's second Starlight Destination certificate in April 2018. 
The jetties at Villanueva del Freno and Cheles, as well as Alconchel castle, are some of the many great spots for stargazing in this territory dominated by the largest artificial lake in western Europe located on the Portuguese-Spanish border.
So these five Extremaduran towns are now included in the certification already granted a few years ago to various Portuguese municipalities under the name 'Alqueva Starlight Tourist Destination'. 
Subsequently, in March 2019, the southwest mountain range of Badajoz received the Starlight certification, and, since then, they are part of Alqueva destiny. These villages are Fregenal de la Sierra, Higuera de Vargas, Higuera la Real , Jerez de los Caballeros, Oliva de la Frontera, Valencia del Mombuey and Zahínos.
Continuing our journey through Extremadura, Trujillo has a planetarium usually installed in the historic 16th-century building called Conventual de San Francisco. It is the largest mobile planetarium in Spain, with a diameter of 12 metres and a capacity of up to 50 people per session. The activities offered by this joint project of the Town of Trujillo and the Centre of Advanced Technologies (CETA-CIEMAT) go beyond the mere projection of films, their ultimate goal being the dissemination of scientific culture (information on visiting and opening times at https://planetario.ceta-ciemat.es).  
In the region there are increasingly more offers of accommodation, activities companies and tourism professionals that provide stargazing-related services, ranging from guided tours and courses to themed dinners, camps for children or telescope rental and lodgings, among other options.
'Extremadura, paisaje de estrellas' (Extremadura, landscape of stars) publishes the contacts of the following companies: Entre Encinas y Estrellas (Fregenal de la Sierra), Aossa Extremadura (Cáceres), Cielos de Extremadura (Cáceres), Apartamentos Rurales La Cañada (Torrejón el Rubio), Grupo Alcor Extremadura (Alange), NatRural Explorers del Geoparque - Astroturismo Villuercas (Guadalupe), Adalberti Extremadura (Trujillo) y Birding Hotel Las Canteras (Trujillo). There is also an accommodation called Los Bujíos Astronómicos (Ceclavín).
In addition, Hospederías de Extremadura have installed high sensitivity cameras at their establishments in Monfragüe Park (Torrejón el Rubio), Conventual Sierra de Gata (San Martín de Trevejo), Valle del Ambroz (Hervás) and Valle del Jerte(Jerte), that provide streaming of the night sky, sunrises and sunsets. At the same time, this accommodation network has taken steps to reduce light pollution.
Download 'Miradores celestes' brochure
More information: https://extremadurabuenasnoches.com/.
Apps to learn and enjoy the astronomy: https://extremadurabuenasnoches.com/multimedia/apps/.